What Is A Stearman?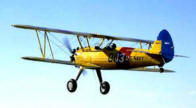 The Stearman is a fabric covered, open cockpit biplane used in World War II as a primary trainer. Many thousands were built by Boeing Aircraft before and during the war.

Please click here or on the picture to learn more.
Is the Stearman Fly-In free?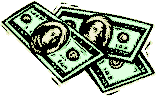 Yes, admittance to the SFI is free! It is a non-profit, community event, sponsored by Grace Flying Service and the St. Francis Area Chamber of Commerce. There are several other sponsors: these include a raft of wonderful volunteers, the St. Francis Equity, the City and County crews, and Video Kingdom/Alltel.

We accept donations: click here if you'd like to donate.
Are other aircraft welcome?


Yes!

We often have more than 100 aircraft at the Stearman Fly-In, including homebuilts, warbirds, ultralights, and sometimes gliders. All aircraft are welcome.

Check out the photos to see some of the previous attendees.
Flying In? Click on the jet logo for airport information.



The Cheyenne County Airport (kSYF) is located 39:45 N/101:48 W. AWOS is 118.925 and Unicom is 122.8 (Unicom is a busy frequency: please skip the "other traffic please advise" nonsense.) There are three sod runways and one asphalt runway: RW 14/32. One of the sod runways parallels the asphalt, so you might hear "Final, 32 Right" on the Unicom (122.8). We get busy during the SFI: look carefully for no-radio aircraft, skydivers, and balloons. The airport will not be closed during the event, but the sod runway 09/27 may be temporarily closed for aircraft parking.

When you land, greeters in golf carts will meet and lead you to parking where they will also register you. If you need fuel, advise them and they will lead you to the pumps: there is no fuel truck.

Please bring your own tiedowns!


See a satellite view of the airport by clicking here.
What else can I see?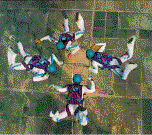 In addition to the many fixed wing and occasional rotary wing aircraft, the SFI hosts hot air balloons and skydivers.

The balloonists and skydivers attend by invitation only--we limit numbers because of airspace and other logistical constraints. However, if you are a skydiver or balloonist, and would like to attend, please contact Grace Flying Service.
What else can I do?

Breakfast and lunch are served on the field, you can buy T-shirts. Stearman rides are often available, and you can sometimes ride as an observer on a skydiving load. Additionally, St. Francis has a municipal swimming pool, a downtown district, a small museum, and a movie theater.
Can I buy BBQ tickets?



The Saturday night BBQ-In-the-Park is free to all of our wonderful volunteer helpers and to the participants: the Stearman pilots, skydivers, and balloonists. We also sell a limited number of tickets to others who want to join in the fun. We'd love to have you, but call early: food is limited.

Tickets are $8 ($5 for children under 12), and are available either in advance or during the day on Saturday. If you want to be sure of getting a ticket, contact us before the event.

St. Francis also has several restaurants. On the highway are Cheyenne Bowl, Majestic Service, Park Hill, and the Pizza Hut. Downtown features the Main Street Coffee House and the Diamond R bar and grill.
Will the balloons fly?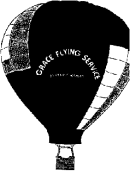 Good question! Hot air balloons require very calm, stable conditions to safely fly. It really is impossible to predict if the balloons will fly: the weather at sunrise is fickle. Get up early and head to the airport: that's what we do. Over the years, we've probably had a 50% success rate, and that is better than we hoped, given our windy climate.

If they fly, it's wonderful. If they don't, a hot airport breakfast is available, and you can commiserate with the other bleary-eyed balloonatics about the bad balloon weather while you eat.

We can't guarantee that you'll see balloons if you get there early, but we can promise that you won't see them if you don't. (Click on the balloon for a weather forecast.)

Driving?
If you arrive via I-70, exit at Goodland from the east, or Burlington from the west. From Denver, take I-70 east to Byers, then Highway 36 will bring you straight into St. Francis in about 2:45. The airport is just south of town, just past the Good Samaritan Village. (Please click on the car logo to see a map of the region.)